Looking in the rearview mirror, 2016 was a year to remember. Some for good and some for bad. The family went through some serious health scares, new responsibilities and much greater work load at the office, and lots of household projects. All this led to the blog taking a bit of a back seat. So here, we take a look back at a trip from late summer.
One benefit of some changes at the office, was getting to head out to our new office in Denver. With this in mind, ownership planned our annual sales meeting to be held in Boulder, CO this year, allowing me to sneak away for a day or two to get on the water.
Heading out a few days early, I dropped a line to a few fly shops in the area, hoping to find a fishing buddy. It's funny calling a fly shop and trying to explain that you want to take one of their employees fishing. I truly wasn't looking for a guided day on the water. I knew where to find fish and had the confidence I would, but knowing I was headed to Rocky Mountain National Park, all I could think about was the photographic opportunities. I didn't think so many people would think I was crazy!
I had some luck when I called Kirk's Fly Shop in Estes Park, and connected with one of the shop guys, Ben Liddle. After a quick call with Ben to introduce myself through the shop, we exchanged phone numbers and began texting about patterns and came up with a plan to connect my first day out there for a few hours in the afternoon.
I arrived at Kirk's a bit early and took stock of the whole place. From the fly bins to the shirt rack, I was impressed, and there was a ton to check out. The place was a buzz of activity - people meeting up with their guides, customers buying rods and reels and getting direction on where to do, and a few guys just bumming around, soaking it all in.
The shop was impressive, with homemade fly bins stocked full of local favorites. Walls of Kirk's Fly Shop t-shirts, fly fishing themed goods the kitchen, camping gear galore, and of course, plenty of hats.
As Ben sent a text, letting me know he was on his way, I finished up buying a couple dozen local favorite flies, a few shirts, and of course my license. I scurried out of the shop with my new goodies and headed to the car, where I'd meet Ben.
Waiting for Ben, the parking lot was buzzing, with lots of people coming and going. I stuck out like a sore thumb, changing clothes and rigging up a fly rod as every car passing hoped I'd be instead, pulling out of the valuable spot I occupied. It wasn't too much longer before Ben arrived, and we were off to grab a quick sandwich and head off to the Big Thompson to chase some trout.
Having never been to west of the Mississippi chasing trout, I wasn't sure what to expect, but was in awe as we rolled in to Rocky Mountain National Park. I pinged Ben with questions, and was impressed with all he knew and his acumen in the outdoors. Ben was studying to work in the outdoor industry, and spent a lot of time with his family growing up, developing a passion for all nature's wonders.
As we made it down to the river, I let Ben take the lead and figured I'd pick up a few things watching him fish some of the pocket water. This stretch was similar to some Driftless streams in it's width, and similar to the Pere Marquette and other MI rivers with it's pine tree lined banks. The current however, was considerably different, and I quickly regretted leaving the felt sole boots at home. I proceeded to test my balance and nerves as I played a real life game of Frogger, clumsily making my way across and upstream.
We worked deep pools, runs and riffles and managed to a fool a few in to eating. Landing a decent brown trout, I mentioned to Ben that maybe it was the "city guy" in me, but the clouds looming over the mountains didn't look too inviting. I don't think it was fifteen minutes before we were running to the car as rain and hail pounded down, and lightening quickly approached. As we made it back to the car, we debated heading out and calling it day, or sticking it out and giving it some time to blow over.
And as quickly as the rain came, so too did the blue skies. Hopping out of the car and making our way back to the river rays of sun poked through the trees and I had a sudden appreciation for patience. I looked at my watch, and the rain storm hadn't cost us but an hour, and now we were heading back out to finish what had already been a great day. We went back and forth catching fish until just before dusk. As we rolled out of the park we came across a valley that perfectly framed the mountains and the beautiful, never ending sky that the West is famous for.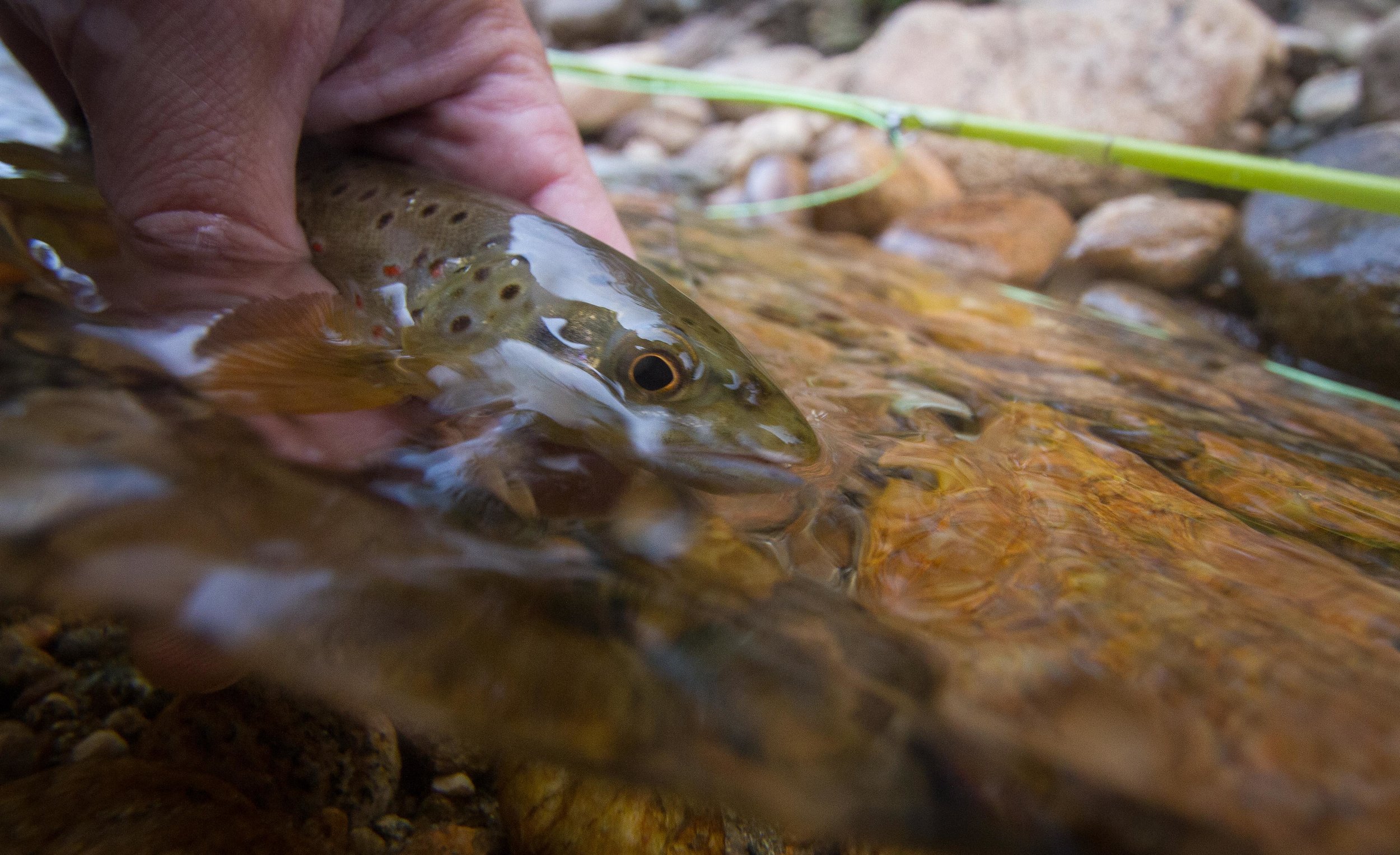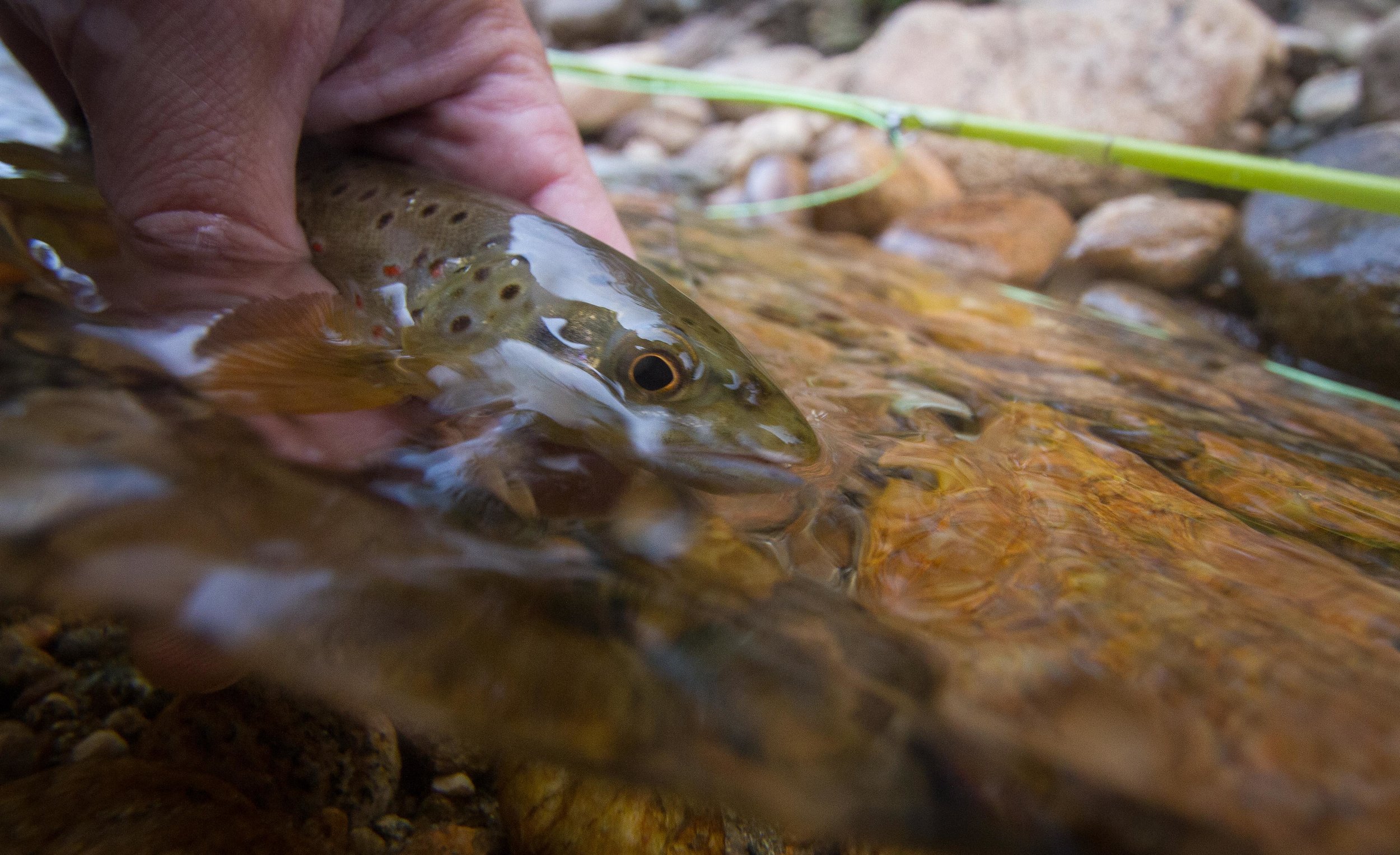 A big thanks goes out to Ben who was crazy enough to be willing to hop in a car with me and be willing to show me around. Looking back on the reactions I got when I called, I'm surprised he stuck with me. So for that, Ben, I appreciate it, and hope we get another chance to fish again next year.